Skip to Main Content
It looks like you're using Internet Explorer 11 or older. This website works best with modern browsers such as the latest versions of Chrome, Firefox, Safari, and Edge. If you continue with this browser, you may see unexpected results.
If you liked WONDER you will like...
Lost in the Sun

by

ISBN: 9780399164064

Publication Date: 2015-05-26

From the author of A Tangle of Knots and Absolutely Almost, a touching story about a boy who won't let one tragic accident define him. Everyone says that middle school is awful, but Trent knows nothing could be worse than the year he had in fifth grade, when a freak accident on Cedar Lake left one kid dead, and Trent with a brain full of terrible thoughts he can't get rid of. Trent's pretty positive the entire disaster was his fault, so for him middle school feels like a fresh start, a chance to prove to everyone that he's not the horrible screw-up they seem to think he is. If only Trent could make that fresh start happen. It isn't until Trent gets caught up in the whirlwind that is Fallon Little--the girl with the mysterious scar across her face--that things begin to change. Because fresh starts aren't always easy. Even in baseball, when a fly ball gets lost in the sun, you have to remember to shift your position to find it. Praise for Lost in the Sun: A Publishers Weekly Best Book of the Year! * "Graff writes with stunning insight [and] consistently demonstrates why character-driven novels can live from generation to generation."--Kirkus Reviews *STARRED* * "Graff creates layered, vulnerable characters that are worth getting to know."--Booklist *STARRED* * "[A]n ambitious and gracefully executed story."--Publishers Weekly *STARRED* * "Weighty matters deftly handled with humor and grace will give this book wide appeal."--School Library Journal *STARRED* * "Characterization is thoughtful."--BCCB *STARRED* "In Lost in the Sun, Trent decides that he will speak the truth: that pain and anger and loss are not the final words, that goodness can find us after all--even when we hide from it. This is a novel that speaks powerfully, honestly, almost shockingly about our human pain and our human redemption. This book will change you."--Gary Schmidt, two-time Newbery Honor-winning author of The Wednesday Wars and Lizzie Bright and the Buckminster Boy "Lisa Graff crafts a compelling story about a boy touched with tragedy and the world of people he cares about. And like all the best stories, it ends at a new beginning."--Richard Peck, Newbery Award-winning author of A Year Down Yonder and A Long Way From Chicago Lisa Graff's Awards and Reviews: Lisa Graff's books have been named to 30 state award lists, and A Tangle of Knots was long-listed for the National Book Award.

Firegirl

by

ISBN: 9780316011709

Publication Date: 2007-06-01

This poignant novel about a boy's friendship with a burn victim is perfect for fans of R. J. Palacio's Wonder From the moment Jessica arrives, life is never quite the same for Tom and his seventh-grade classmates. They learn that Jessica has been in a fire and was badly burned, and will be attending St. Catherine's will receiving medical treatments. Despite her appearance and the fear she evokes in him and most of the class, Tom slowly develops a tentative friendship with Jessica that changes his life.

Cyclone

by

ISBN: 9781481435253

Publication Date: 2017-05-16

Nora's whole world plummets faster than the Cyclone roller coaster when her cousin Riley falls into a coma that Nora thinks is her fault in this warm, big-hearted debut middle grade novel from #1 New York Times bestselling author, Doreen Cronin. Riding the Cyclone, the world famous Coney Island rollercoaster, was supposed to be the highlight of Nora's summer. But right after they disembark, Nora's cousin Riley falls to the ground...and doesn't get up. Nora had begged and dragged Riley onto the ride, and no matter what the doctors say, that she had a heart condition, that it could have happened at any time, Nora knows it was her fault. Then, as Riley comes out of her coma, she's not really Riley at all. The cousin who used to be loud and funny and unafraid now can't talk, let alone go to the bathroom by herself. No, she's only 10% Riley. Nora, guilt eating her up on the inside worse than a Coney Island hotdog, thinks she knows how to help. How to get 100% Riley back. But what Nora doesn't realize is that the guilt will only get worse as that percentage rises.

Inside Hudson Pickle

by

ISBN: 9781771386203

Publication Date: 2017-09-05

Cut from AAA hockey last season, seventh-grader Hudson Pickle needs to make the basketball team this year. But, after having an asthma attack at the first tryout, his chances aren't looking good. His former best friend, Trevor, is also trying out. But he won't even speak to Hudson since Hudson had all but ignored him while concentrating on hockey. And as if that wasn't bad enough, now his uncle Vic --- who's been staying with him and his mom since a suspicious fire at his house ---has been diagnosed with a genetic respiratory illness. Could this mean Hudson has something worse than asthma? And while this DNA mystery is being unraveled, will the truth about what happened to his father finally be revealed as well? Yolanda Ridge's compelling coming-of-age novel for middle-graders combines humor, action and mystery --- with a dose of genetic science to keep things interesting. It offers a rich reading experience with complex characters and a multilayered story. Thoughtful, authentic and likeable Hudson will inspire readers with the grit and perseverance he relies on to get through his difficulties, and the self-deprecating wit he uses to manage middle-school social dynamics, evolving friendships and a changing family structure. There are also multiple mysteries running throughout the story --- involving Hudson's father, his uncle and his own health --- that are sure to keep the pages turning.

Mustaches for Maddie

by

ISBN: 9781629723303

Publication Date: 2017-10-03

Based on a true story. Twelve-year-old Maddie has a quirky sense of humor and loves making her classmates laugh by slapping on fake mustaches every chance she gets. Being funny gets her noticed by class queen Cassie, and things are looking up when Maddie is cast as Juliet in the school play. Maybe Juliet could wear a mustache? When Maddie starts tripping when she walks and her hand starts curling up at her side, her mom takes her to the doctor, who confirms Maddie has a brain tumor. In an instant, her world is turned upside down. Maddie doesn't want anyone else to know. Especially Cassie, whose jealousy has turned to bullying. What about Maddie's chance to play Juliet opposite the cutest boy in the sixth grade? What if the doctors can't get the ugly tumor monster out of her brain? As Maddie's surgery approaches, she wonders if her illness is giving her super powers because her imagination is bigger than ever, her courage is stronger than ever, and her compassion is about to be felt by more people than she ever imagined.

Falling over Sideways

by

ISBN: 9780545863247

Publication Date: 2016-09-27

A new hilarious, honest, and hopeful novel from the author of Drums, Girls & Dangerous Pie! Claire's life is a joke . . . but she's not laughing. While her friends seem to be leaping forward, she's dancing in the same place. The mean girls at school are living up to their mean name, and there's a boy, Ryder, who's just as bad, if not worse. And at home, nobody's really listening to her - if anything, they seem to be more in on the joke than she is. Then into all of this (not-very-funny-to-Claire) comedy comes something intense and tragic - while her dad is talking to her at the kitchen table, he falls over with a medical emergency. Suddenly the joke has become very serious - and the only way Claire, her family, and her friends are going to get through it is if they can find a way to make it funny again.

Insignificant Events in the Life of a Cactus

by

ISBN: 9781454923459

Publication Date: 2017-09-05

"Aven is a perky, hilarious, and inspiring protagonist whose attitude and humor will linger even after the last page has turned." --School Library Journal (Starred review) Chosen for the Autumn 2017 Kids' Indie Next List! Aven Green loves to tell people that she lost her arms in an alligator wrestling match, or a wildfire in Tanzania, but the truth is she was born without them. And when her parents take a job running Stagecoach Pass, a rundown western theme park in Arizona, Aven moves with them across the country knowing that she'll have to answer the question over and over again. Her new life takes an unexpected turn when she bonds with Connor, a classmate who also feels isolated because of his own disability, and they discover a room at Stagecoach Pass that holds bigger secrets than Aven ever could have imagined. It's hard to solve a mystery, help a friend, and face your worst fears. But Aven's about to discover she can do it all . . . even without arms.

Ugly

by

ISBN: 9780425287774

Publication Date: 2017-02-07

This true story of an ordinary boy with an extraordinary face is perfect for fans of Wonder--now with exclusive paperback content! When Robert Hoge was born, he had a tumor the size of a tennis ball in the middle of his face and short, twisted legs. Surgeons removed the tumor and made him a new nose from one of his toes. Amazingly, he survived--with a face that would never be the same. Strangers stared at him, kids called him names, and adults could be cruel in their own ways. Everybody seemed to agree that Robert was "ugly." But Robert refused to let his face dictate his entire life. Then, when Robert came face to face with the biggest decision of his life, he followed his heart. This poignant memoir about overcoming bullying and thriving with disabilities shows that what makes us "ugly" also makes us who we are. * Features an exclusive introduction, photographs, and Q&A from the author! * ★ "Eminently readable . . . a gripping readaloud, readalone, and discussion point all on its own."--BCCB, starred review "A jaw-dropping story of resilience, courage, and fierce hope."--New York Times bestselling author Joan Bauer
If you like dystopian...
The Last Kids on Earth

by

ISBN: 9780670016617

Publication Date: 2015-10-13

"Terrifyingly fun! Delivers big thrills and even bigger laughs."--Jeff Kinney, author of the #1 New York Times bestseller Diary of a Wimpy Kid Diary of a Wimpy Kid meets The Walking Dead in this very funny post-apocalyptic graphic novel for middle-grade readers. Ever since the monster apocalypse hit town, average thirteen year old Jack Sullivan has been living in his tree house, which he's armed to the teeth with catapults and a moat, not to mention video games and an endless supply of Oreos and Mountain Dew scavenged from abandoned stores. But Jack alone is no match for the hordes of Zombies and Winged Wretches and Vine Thingies, and especially not for the eerily intelligent monster known only as Blarg. So Jack builds a team: his dorky best friend, Qu∫ the reformed middle school bully, Dirk; Jack's loyal pet monster, Rover; and Jack's crush, June. With their help, Jack is going to slay Blarg, achieve the ultimate Feat of Apocalyptic Success, and be average no longer! Can he do it? Told in a mixture of text and black-and-white illustration, this is the perfect book for any kid who's ever dreamed of starring in his or her own comic book or video game. And then grab the sequel, The Last Kids on Earth and the Zombie Parade, now a New York Times bestseller!

The Girl Who Owned the City

by

ISBN: 9780822596707

Publication Date: 1995-02-01

Lisa has lived through a devastating plague that has killed her parents, as well as all of the adults in the world. She and Todd, her younger brother, must compete for survival with roaming, lawless gangs in suburban Chicago. First published in 1975, this gripping novel has more than 200,000 copies in print.

The Giver

by

ISBN: 0547995660

Publication Date: 2012-09-25

The Giver, the 1994 Newbery Medal winner, has become one of the most influential novels of our time. The haunting story centers on twelve-year-old Jonas, who lives in a seemingly ideal, if colorless, world of conformity and contentment. Not until he is given his life assignment as the Receiver of Memory does he begin to understand the dark, complex secrets behind his fragile community. Lois Lowry has written three companion novels toThe Giver,includingGathering Blue, Messenger, andSon.

Race the Night

by

ISBN: 9781484708347

Publication Date: 2016-11-08

"[A] moving tale of resilience, hope, and the meaning of family." -School Library Journal (starred review) Without you, there'd be no hope for the world. Because you are the whole world. That's what Teacher says, and twelve-year-old Eider knows she's right. The world ended long ago, and the desert ranch is the only thing left. Still, Eider's thoughts keep wandering Beyond the fence. Beyond the pleated earth and scraggly brush and tedious daily lessons. Eider can't help wishing for something more-like the stories in the fairytale book she hides in the storage room. Like the secret papers she collects from the world Before. Like her little sister who never really existed. When Teacher announces a new kind of lesson, Eider and the other kids are confused. Teacher says she needs to test their specialness-the reason they were saved from the end of the world. But seeing in the dark? Reading minds? As the kids struggle to complete Teacher's challenges, they also start to ask questions. Questions about their life on the desert ranch, about Before and Beyond, about everything Teacher has told them. But the thing about questions-they can be dangerous. This moving novel-equal parts hope and heartbreak-traces one girl's journey for truth and meaning, from the smallest slip of paper to the deepest understanding of family. The world may have ended for the kids of the desert ranch . . . but that's only the beginning.
Holocaust
Irena's Children

by

ISBN: 9781481449915

Publication Date: 2016-09-27

From New York Times bestselling author Tilar Mazzeo comes the extraordinary and long forgotten story of Irena Sendler—the "female Oskar Schindler"—who took staggering risks to save 2,500 children from death and deportation in Nazi-occupied Poland during World War II—now adapted for a younger audience. Irena Sendler was a young Polish woman living in Warsaw during World War II with an incredible story of survival and selflessness. And she's been long forgotten by history. Until now. This young readers edition of Irena's Children tells Irena's unbelievable story set during one of the worst times in modern history. With guts of steel and unfaltering bravery, Irena smuggled thousands of children out of the walled Jewish ghetto in toolboxes and coffins, snuck them under overcoats at checkpoints, and slipped them through the dank sewers and into secret passages that led to abandoned buildings, where she convinced her friends and underground resistance network to hide them. In this heroic tale of survival and resilience in the face of impossible odds, Tilar Mazzeo and adapter Mary Cronk Farrell share the true story of this bold and brave woman, overlooked by history, who risked her life to save innocent children from the horrors of the Holocaust.

Projekt 1065

by

ISBN: 9780545880169

Publication Date: 2016-10-11

Award-winning, critically acclaimed author Alan Gratz returns with another gripping World War II story, this time about a spy in the Hitler Youth. It's the height of World War II. Michael O'Shaunessey, son of the Irish ambassador to Nazi Germany, lives with his family in Berlin. But Michael, like his parents, is a spy. He joins the Hitler Youth, taking part in their horrific games and book-burning, despising everything they stand for but using his insider knowledge to bring important information back to his parents and the British Secret Service. When Michael is tasked to find out more about Projekt 1065, a secret Nazi mission, things get even more complicated. He must prove his loyalty to the Hitler Youth at all costs -even if it means risking the lives of his family... and himself. Acclaimed author Alan Gratz delivers a heart-pounding, action-packed tale of political intrigue, betrayal, and survival.

The Enemy Above

by

ISBN: 9780545857826

Publication Date: 2016-06-28

The only place they could hide from the Nazis was right beneath their feet! Anton has nowhere to run. Ambitious Colonel Karl Van Duesen of the Gestapo has made it his mission to round up every Jew in the Ukrainian countryside, and he's getting close. A web of underground caves seems like the perfect hiding place for Anton and the rest of his community. If they are discovered, they will be sent off to work camps. . . or worse. But when a surprise invasion catches them offguard, and his grandmother is captured, Anton makes a radical decision. He won't run. He won't hide. He will follow the Gestapo and rescue his grandmother. He will stop being the hunted. . . and start doing some hunting of his own. Michael P. Spradlin's newest thriller is the ultimate game of cat-and-mouse set during one of the darkest moments in history.

Yellow Star

by

ISBN: 076145277X

Publication Date: 2006-04-01

"In 1945 the war ended. The Germans surrendered, and the ghetto was liberated. Out of over a quarter of a million people, about 800 walked out of the ghetto. Of those who survived, only twelve were children. I was one of the twelve." For more than fifty years after the war, Syvia, like many Holocaust survivors, did not talk about her experiences in the Lodz ghetto in Poland. She buried her past in order to move forward. But finally she decided it was time to share her story, and so she told it to her niece, who has re-told it here using free verse inspired by her aunt. This is the true story of Syvia Perlmutter-a story of courage, heartbreak, and finally survival despite the terrible circumstances in which she grew up. A timeline, historical notes, and an author's note are included.

Paper Hearts

by

ISBN: 9781481439831

Publication Date: 2015-09-01

Amid the brutality of Auschwitz during the Holocaust, a forbidden gift helps two teenage girls find hope, friendship, and the will to live in this novel in verse that's based on a true story. An act of defiance. A statement of hope. A crime punishable by death. Making a birthday card in Auschwitz was all of those things. But that is what Zlatka did, in 1944, for her best friend, Fania. She stole and bartered for paper and scissors, secretly creating an origami heart. Then she passed it to every girl at the work tables to sign with their hopes and wishes for happiness, for love, and most of all--for freedom. Fania knew what that heart meant, for herself and all the other girls. And she kept it hidden, through the bitter days in the camp and through the death marches. She kept it always. This novel is based on the true story of Fania and Zlatka, the story of the bond that helped them both to hope for the best in the face of the worst. Their heart is one of the few objects created in Auschwitz, and can be seen today in the Montreal Holocaust Memorial Centre.
Destiny Discovery Library Catalog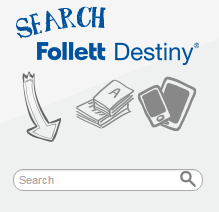 Destiny Discover
Destiny Discover is the library catalog that allows you to search for books, DVDs, audiobooks, ebooks, and even digital media that the district provides through all 8 of the Wilson libraries.
Log into Destiny Quest with your school user name and school password to access your own account. Destiny Discover
If you like THE ONE AND ONLY IVAN you might like...
Webster

by

ISBN: 9781481422017

Publication Date: 2015-11-03

A cynical shelter dog learns to let down his guard and form a new animal family in this heartwarming and humorous friendship story from the author of Santa Paws. Webster is too cool to be scared. Or alarmed. Or even a tiny bit nervous. So what if no one will adopt him? He's had it with people anyway. He's going to be a loner. Not going to get too comfortable in this new shelter, even if the home-baked treats are good. Not going to get used to the nice soft bed. Not going to make friends, no matter how much he kind of likes Jack the Terrier and even Florence the bossy cat. Nope, he doesn't need friends. Acquaintances are just fine. And the first chance he gets, he's hitting the road and living life on the range, just like one of the stoic cowboys he's decided to model himself after. But sometimes the best-laid plans (even those of a dog's) have a way of backfiring. Will a tough pup like Webster find a home and family after all?

Word of Mouse

by

ISBN: 9780316349567

Publication Date: 2016-12-12

James Patterson's newest illustrated middle grade story follows the illuminating journey of a very special mouse, and the unexpected friendships that he makes along the way. What makes Isaiah so unique? First, his fur is as blue as the sky--which until recently was something he'd never seen, but had read all about. That's right--Isaiah can read, and write. He can also talk to humans...if any of them are willing to listen! After a dramatic escape from a mysterious laboratory, Isaiah is separated from his "mischief" (which is the word for a mouse family), and has to use his special skills to survive in the dangerous outdoors, and hopefully find his missing family. But in a world of cruel cats, hungry owls, and terrified people, it's hard for a young, lone mouse to make it alone. When he meets an equally unusual and lonely human girl named Hailey, the two soon learn that true friendship can transcend all barriers.

The Wild Robot

by

ISBN: 9780316381994

Publication Date: 2016-04-05

Can a robot survive in the wilderness? When robot Roz opens her eyes for the first time, she discovers that she is alone on a remote, wild island. She has no idea how she got there or what her purpose is--but she knows she needs to survive. After battling a fierce storm and escaping a vicious bear attack, she realizes that her only hope for survival is to adapt to her surroundings and learn from the island's unwelcoming animal inhabitants. As Roz slowly befriends the animals, the island starts to feel like home--until, one day, the robot's mysterious past comes back to haunt her. From bestselling and award-winning author and illustrator Peter Brown comes a heartwarming and action-packed novel about what happens when nature and technology collide.

Pax

by

ISBN: 9780062377012

Publication Date: 2016-02-02

From bestselling and award-winning author Sara Pennypacker comes a beautifully wrought, utterly compelling novel about the powerful relationship between a boy and his fox. Pax is destined to become a classic, beloved for generations to come. Pax and Peter have been inseparable ever since Peter rescued him as a kit. But one day, the unimaginable happens: Peter's dad enlists in the military and makes him return the fox to the wild. At his grandfather's house, three hundred miles away from home, Peter knows he isn't where he should be—with Pax. He strikes out on his own despite the encroaching war, spurred by love, loyalty, and grief, to be reunited with his fox. Meanwhile Pax, steadfastly waiting for his boy, embarks on adventures and discoveries of his own. . . .

Buddy

by

ISBN: 0670014036

Publication Date: 2012-09-13

A classic boy-and-dog tale in the tradition of Old Yeller Tyrone "Li'l T" Roberts meets Buddy when his family's car accidentally hits the stray dog on their way to church. Buddy turns out to be the dog Li'l T's always wished for--until Hurricane Katrina comes to New Orleans and he must leave Buddy behind. After the storm, Li'l T and his father return home to find a community struggling to rebuild their lives--and Buddy gone. But Li'l T refuses to give up his quest to find his best friend. From the author of the BBYA Top Ten selection The Great Wide Sea comes a powerful story of hope, courage, and knowing when to let go.

Maxi's Secrets

by

ISBN: 9780399545689

Publication Date: 2017-08-01

Timminy knows that moving to a new town just in time to start middle school when you are perfect bully bait is less than ideal. But he gets a great consolation prize in Maxi-a gentle giant of a dog who the family quickly discovers is deaf. Timminy is determined to do all he can to help Maxi-after all, his parents didn't return him because he was a runt. But when the going gets rough for Timminy, who spends a little too much time getting shoved into lockers at school, Maxi ends up being the one to help him-along with their neighbor, Abby, who doesn't let her blindness define her and bristles at Timminy's opoor-meo attitude. It turns out there's more to everyonethan what's on the surface, whether it comes to Abby, Maxi, or even Timminy himself.

When Friendship Followed Me Home

by

ISBN: 9780147510068

Publication Date: 2017-07-18

"If you have middle schoolers who are too young to fully grasp John Green's The Fault in Our Stars and love dogs, give them this sweet tearjerker." -- School Library Journal "In this beguiling tearjerker, a foster kid's luck slowly changes after he befriends a scruffy pup he finds outside the library."--People magazine Ben Coffin has never been one for making friends. As a former foster kid, he knows people can up and leave without so much as a goodbye. Ben prefers to spend his time with the characters in his favorite sci-fi books...until he rescues an abandoned mutt from the alley next-door to the Coney Island Library. Scruffy little Flip leads Ben to befriend a fellow book-lover named Halley--yes, like the comet--a girl unlike anyone he has ever met. Ben begins thinking of her as "Rainbow Girl" because of her crazy-colored clothes and her laugh, pure magic, the kind that makes you smile away the stormiest day. Rainbow Girl convinces Ben to write a novel with her. But as their story unfolds Ben's life begins to unravel, and Ben must discover for himself the truth about friendship and the meaning of home.
If you liked BECAUSE OF MR. TERUPT you might like...
Ms. Bixby's Last Day

by

ISBN: 9780062338174

Publication Date: 2016-06-21

John David Anderson, author of Sidekicked and The Dungeoneers, returns with a funny, heartwarming, and heartbreaking contemporary story about three boys, one teacher, and a day none of them will ever forget. Everyone knows there are different kinds of teachers. The boring ones, the mean ones, the ones who try too hard, the ones who stopped trying long ago. The ones you'll never remember, and the ones you want to forget. Ms. Bixby is none of these. She's the sort of teacher who makes you feel like school is somehow worthwhile. Who recognizes something in you that sometimes you don't even see in yourself. Who you never want to disappoint. What Ms. Bixby is, is one of a kind. Topher, Brand, and Steve know this better than anyone. And so when Ms. Bixby unexpectedly announces that she won't be able to finish the school year, they come up with a risky plan—more of a quest, really—to give Ms. Bixby the last day she deserves. Through the three very different stories they tell, we begin to understand what Ms. Bixby means to each of them—and what the three of them mean to each other.

Rain Reign

by

ISBN: 0312643004

Publication Date: 2014-10-07

ANew York Times Bestseller! Rose Howard is obsessed with homonyms. She's thrilled that her own name is a homonym, and she purposely gave her dog Rain a name with two homonyms (Reign, Rein), which, according to Rose's rules of homonyms, is very special. Not everyone understands Rose's obsessions, her rules, and the other things that make her different – not her teachers, not other kids, and not her single father. When a storm hits their rural town, rivers overflow, the roads are flooded, and Rain goes missing. Rose's father shouldn't have let Rain out. Now Rose has to find her dog, even if it means leaving her routines and safe places to search. Hearts will break and spirits will soar for this powerful story, brilliantly told from Rose's point of view.

Mockingbird

by

ISBN: 0142417750

Publication Date: 2011-02-03

THE NATIONAL BOOK AWARD WINNER and ONE OF THE MOST IMPORTANT NOVELS OF OUR TIME FOR YOUNG READERS Caitlin has Asperger's. The world according to her is black and white; anything in between is confusing. Before, when things got confusing, Caitlin went to her older brother, Devon, for help. But Devon was killed in a school shooting, and Caitlin's dad is so distraught that he is just not helpful. Caitlin wants everything to go back to the way things were, but she doesn't know how to do that. Then she comes across the word closure--and she realizes this is what she needs. And in her search for it, Caitlin discovers that the world may not be so black and white after all. "Powerful."--Publishers Weekly "A strong and complex character study."--The Horn Book "Allusions to Harper Lee's To Kill a Mockingbird, the portrayal of a whole community's healing process, and the sharp insights into Caitlyn's behavior enhance this fine addition to the recent group of books with narrators with autism and Asbergers."--Booklist

The Perfect Score

by

ISBN: 9781101938256

Publication Date: 2017-10-03

From the beloved author of Because of Mr. Terupt and its sequels comes The Perfect Score, a new middle-grade school story with a very special cast of unforgettable characters who discover that getting the perfect score--both on the test and in life--is perhaps not so perfect after all. No one likes or wants to take the statewide assessment tests. Not the students in Mrs. Woods's sixth-grade class. Not even Mrs. Woods. It's not as if the kids don't already have things to worry about. . . . Under pressure to be the top gymnast her mother expects her to be, RANDI starts to wonder what her destiny truly holds. Football-crazy GAVIN has always struggled with reading and feels as dumb as his high school-dropout father. TREVOR acts tough and mean, but as much as he hates school, he hates being home even more. SCOTT's got a big brain and an even bigger heart, especially when it comes to his grandfather, but his good intentions always backfire in spectacular ways. NATALIE, know-it-all and aspiring lawyer, loves to follow the rules--only this year, she's about to break them all. The whole school is in a frenzy with test time approaching--kids, teachers, the administration. Everyone is anxious. When one of the kids has a big idea for acing the tests, they're all in. But things get ugly before they get better, and in the end, the real meaning of the perfect score surprises them all.

Slider

by

ISBN: 9780763690700

Publication Date: 2017-09-12

Competitive eating vies with family expectations in a funny, heartfelt novel for middle-grade readers by National Book Award winner Pete Hautman. David can eat an entire sixteen-inch pepperoni pizza in four minutes and thirty-six seconds. Not bad. But he knows he can do better. In fact, he'll have to do better: he's going to compete in the Super Pigorino Bowl, the world's greatest pizza-eating contest, and he has to win it, because he borrowed his mom's credit card and accidentally spent $2,000 on it. So he really needs that prize money. Like, yesterday. As if training to be a competitive eater weren't enough, he's also got to keep an eye on his little brother, Mal (who, if the family believed in labels, would be labeled autistic, but they don't, so they just label him Mal). And don't even get started on the new weirdness going on between his two best friends, Cyn and HeyMan. Master talent Pete Hautman has cooked up a rich narrative shot through with equal parts humor and tenderness, and the result is a middle-grade novel too delicious to put down.

Ghost

by

ISBN: 9781481450164

Publication Date: 2017-08-29

A National Book Award Finalist for Young People's Literature. Ghost wants to be the fastest sprinter on his elite middle school track team, but his past is slowing him down in this first electrifying novel in a new series from Coretta Scott King/John Steptoe Award-winning author Jason Reynolds. Ghost. Lu. Patina. Sunny. Four kids from wildly different backgrounds with personalities that are explosive when they clash. But they are also four kids chosen for an elite middle school track team--a team that could qualify them for the Junior Olympics if they can get their acts together. They all have a lot to lose, but they also have a lot to prove, not only to each other, but to themselves. Running. That's all Ghost (real name Castle Cranshaw) has ever known. But Ghost has been running for the wrong reasons--it all started with running away from his father, who, when Ghost was a very little boy, chased him and his mother through their apartment, then down the street, with a loaded gun, aiming to kill. Since then, Ghost has been the one causing problems--and running away from them--until he meets Coach, an ex-Olympic Medalist who sees something in Ghost: crazy natural talent. If Ghost can stay on track, literally and figuratively, he could be the best sprinter in the city. Can Ghost harness his raw talent for speed, or will his past finally catch up to him?
Like books about sports?
New Kid

by

ISBN: 9780062208729

Publication Date: 2014-03-04

New York Times bestselling author and former NFL defensive end Tim Green delivers another baseball tale that will keep kids on the edge of their seats. Perfect for fans of Mike Lupica or Dan Gutman's Baseball Card Adventure series. Tommy's the new kid in town, like he's been so many times before. Now he goes by the name Brock, and he's having a hard time fitting in, especially when his new friend is the bully from the wrong side of the tracks. Thanks to a prank gone wrong, the baseball coach notices Brock and offers him a place on his failing baseball team. But can Brock prove himself on and off the field before he becomes a new kid…again?

Outside Shot

by

ISBN: 9781561459551

Publication Date: 2017-03-01

Eighth-grader Richie Mallon has always known he was a shooter, but will his amazing shooting talent be enough to keep him on the team? Outside Shot tells the story of eighth-grade basketball player Richie Mallon, who is known as "the shooter," the one on the team who scores most of the baskets. He has practiced every day at his driveway hoop, perfecting his technique. Richie never plays any other roles on the court; he lets his teammates do the assisting and rebounding. Richie makes the team under a tough new coach, but he's not a starter. Then when his shooting skills go into a slump, he must find a way to become a more well-rounded player. Author Fred Bowen continues his Sport Story Series with full court, play-by-play action that's sure to keep readers on the edge of their seats!

Hit and Miss

by

ISBN: 9781481423151

Publication Date: 2015-04-28

The second book in the New York Times bestselling Jeter Publishing imprint, Hit & Miss is a middle grade baseball novel inspired by the youth of legendary sports icon and role model Derek Jeter. "Just try to make solid contact, stay level and in control. Positive thoughts only, right?" That's the advice Derek's father gives him about batting—and a lot more. It seems that Little League season is here. Throughout the long Michigan winter, Derek thought that Opening Day might never come. Now at last he can pursue his dream of one day playing shortstop for the New York Yankees. As luck would have it, he's on the Red Sox this year, and they seem to have more talent than the Tigers, the team he was on when last season ended in disappointment. His best friend, Vijay, is with him again, and Derek gets the same number—13!—that his father wore in college. Now if the new kid with the chauffeur turns out to be a player, well, the Red Sox might just win it all. But as Derek finds out, both baseball and life are hard. Before the season is over, he'll break out of a slump, bring his teammates closer together, learn a new sport, solve the mystery of why his sister Sharlee seems so quiet and suffer the consequences for violating "The Contract" he had signed with his parents. Before he can move closer to his dream, there are many lessons to be learned.

Roller Girl

by

ISBN: 9780803740167

Publication Date: 2015-03-10

"For most of her twelve years, Astrid has done everything with her best friend Nicole. But after Astrid falls in love with roller derby and signs up for derby camp, Nicole decides to go to dance camp instead. And so begins the most difficult summer of Astrid's life as she struggles to keep up with the older girls at camp, hang on to the friend she feels slipping away, and cautiously embark on a new friendship. As the end of summer nears and her first roller derby bout (and junior high!) draws closer, Astrid realizes that maybe she is strong enough to handle the bout, a lost friendship, and middle school . . . in short, strong enough to be a roller girl. In this graphic novel debut that earned a Newbery Honor and five starred reviews, real-life derby girl Victoria Jamieson has created an inspiring coming-of-age story about friendship, perseverence, and girl power!"
Like to laugh?
The Tapper Twins Go to War (with Each Other)

by

ISBN: 9780316297790

Publication Date: 2015-04-07

This brand-new series by a popular screenwriter is a pitch-perfect, contemporary comedy featuring twelve-year-old fraternal twins, Claudia and Reese, who couldn't be more different...except in their determination to come out on top in a vicious prank war! But when the competition escalates into an all-out battle that's fought from the cafeteria of their New York City private school all the way to the fictional universe of an online video game, the twins have to decide if their efforts to destroy each other are worth the price. Told as a colorful "oral history" by the twins and their friends, and including photos, screenshots, chat logs, online gaming digital art, and text messages between their clueless parents, The Tapper Twins is a hilariously authentic showcase of what it's like to be in middle school in our digitally-saturated world.

Stick Dog Tries to Take the Donuts

by

ISBN: 9780062343208

Publication Date: 2016-01-05

The popular Stick Dog series continues in Tom Watson's hilarious Stick Dog Tries to Take the Donuts! Stick Dog and his team of strays are off on another outrageous canine caper. To snatch some breakfast treats for his hungry pals, Stick Dog will need to stop a moving truck, outfox a man on a telephone pole, and calm down a very caffeinated Karen. But that's not all. He'll also need to manage the greatest confrontation in history when his good friend Poo-Poo comes face-to-face with the ultimate enemy: a squirrel! With Stick Dog's smarts, daring, loyalty—and patience—he just might lead his buddies to the best breakfast ever. Perfect for fans of Big Nate, Diary of a Wimpy Kid, Timmy Failure, and the previous Stick Dog books. It's morning. The dogs are hungry. It's time to take the donuts!

Middle School: Dog's Best Friend

by

ISBN: 9780316349543

Publication Date: 2016-10-24

Releasing the same month as the MIDDLE SCHOOL movie, this next installment of James Patterson's hit series has non-stop laughs starring everyone's favorite underdog. It's a dog-eat-dog world, and Rafe Khatchadorian is just trying to live in it. Life in middle school is finally starting to seem bearable-until Rafe spots his grandmother standing on the free-meal line at the local soup kitchen. In order to help bring in more money, Rafe concocts a brilliant plan-a dog-walking business that soon turns into a huge money-making neighborhood empire. He'll even have extra cash to buy his own WormHole Deluxe Multi-Platform GameBox! That is, until two terrible twins launch the Great Dog War by sabotaging Rafe's flyers and stealing his customers. Plus, his bratty kid sister Georgia has skipped a grade-so now she's in all of Rafe's classes. Throw a kid a bone!

Six Kids and a Stuffed Cat

by

ISBN: 9781481452236

Publication Date: 2016-05-10

From three-time Newbery Honor author Gary Paulsen comes a laugh-out-loud novel about six wacky misfits who get stuck together in a school restroom and discover friendship. It seemed like a normal school day, until a horrible storm forced the very cautious school administration to make everyone hole up in a safe place. Six students find themselves stuck in a tiny, questionably smelly space—a school bathroom—with a stuffed cat for entertainment. Hijinks ensue and the unexpected happens. They enter as strangers…and leave as friends. Get to know the story even better with a special script that accompanies the novel, so any six kids can get together with their friends and perform the story anywhere they'd like.

Just Jake

by

ISBN: 9780448466934

Publication Date: 2015-03-31

Sixth grader Jake Ali Mathews is slowly climbing his way back up the ladder of popularity. Increasingly settled in his new school and with a great new best friend, Michael, everything seems to be going okay for Jake. Until Jake's beloved teacher, Mrs. Pilsner, has a baby and the students in Jake's homeroom are handed off to the super-scary substitute, Ms. Cane. Rather than teach through traditional methods, Ms. Cane decides to have these go-getters help her with a fledgling pet-grooming company. Dogs, cats, and more get bathed, popularity struggles become boardroom struggles, and Jake's friendship with Michael is tested. Even Jake's diabolical sister, Alexis, gets in on the puppy-cleaning action and hilarity ensues. But will Jake's brand of AWESOMENESS be enough to clean up this furry mess?

Can You Say Catastrophe?

by

ISBN: 9781467709255

Publication Date: 2013-08-01

April Sinclair just wants what any normal thirteen-year-old would want: to disown her parents and obnoxious little sisters; to escape to summer camp ASAP with her two best friends, Billy and Brynn; and to make a good impression on Matt Parker, the hot new boy next door. Unfortunately, Matt witnesses April's utter humiliation at her birthday party. Then Billy kisses her. Just as April is trying to figure things out, her parents cancel her camp plans in lieu of a family RV trip. A summer of babysitting her sisters and "re-bonding" with her family isn't how she imagined life as a teenager. And it certainly won't help her straighten out her feelings about Billy or Matt. Is there any silver lining to a road trip in The Clunker with her family of misfits?
Subject Guide
Belinda Davison
If you like mysteries you might like...
Stolen Children

by

ISBN: 0142415138

Publication Date: 2010-02-18

When Amy agreed to baby-sit Kendra Edgerton, she had no idea she was stepping into a kidnapping plot. Two men force the girls out of the house and into a cabin in the woods, where they create DVDs to send to the families, in hopes of a large ransom from Kendra's wealthy parents. Using her wits and imagination, Amy stealthily sends clues to the police through the DVDs, but time is working against her: She has one week until her captors decide to return Kendra and get rid of Amy.

Vanish

by

ISBN: 1459803493

Publication Date: 2013-03-01

Fourteen-year-old Simone is having trouble making friends at her new school when her leadership studies class is paired with kindergarten students to mentor throughout the school year. To her surprise, Simone enjoys the Kinderbuddy Project, and she develops a special friendship with her Kinderbuddy, Lily. But as the bond between Simone and her Kinderbuddy grows, she realizes that a crisis is looming in Lily's family. Simone calls upon Aaron, the reluctant heartthrob of the class, for help, and they become key witnesses to events neither of them could have predicted.

Dangerous Deception

by

ISBN: 0525426523

Publication Date: 2014-10-16

Peg Kehret includes humor, animal rescue, and heart-pounding suspense in this story about good intentions gone wrong. Sixth-grader Emmy Rushford decides to provide food for a needy family, but the project turns perilous when Emmy must deal with a car crash, a cat thrown into a Dumpster, and a belligerent neighbor. Then she discovers an apartment full of stolen goods. Her courageous efforts to help hungry children, rescue the cat, and break up a ring of thieves soon put her life at risk.

Spaced Out

by

ISBN: 9781481423366

Publication Date: 2016-04-05

The moon base commander has gone missing and Dash Gibson is on the case in the second mind-boggling mystery of the Moon Base Alpha series from the New York Times bestselling author of Belly Up and Spy School. There's nowhere to hide on the world's first moon base. After all, it's only the size of a soccer field. So when Nina Stack, the commander of Moon Base Alpha, mysteriously vanishes, the Moonies are at a total loss. Though he may be just twelve years old, Dashiell Gibson is the best detective they've got. But this confusing mystery pushes Dash to his limits. Especially since Dash accidentally made contact with an alien and has to keep it a secret. With the fate of the entire human race hanging in the balance, will Dash be able to solve the mystery of the missing Moonie?

Skeleton Creek

by

ISBN: 0545075661

Publication Date: 2009-03-01

There are two sides to this story-one is WRITTEN, the other is on VIDEO. Something mysterious is happening in Skeleton Creek. Something scary. Something sinister. Ryan came close to it . . . and nearly died. Now he's trapped in his house. He can't trust anyone-not even himself. He is forbidden from seeing his best friend, Sarah. So while Ryan is isolated and alone, she plunges back into the mystery, putting her life on the line to get to the truth. Ryan is desperately trying to write down the full story. And while he does, Sarah takes videos of what she finds, then sends him the links so he can watch. Together, they discover: The past is dangerous. The present is haunted. And the future is deadly.

Fuzzy Mud

by

ISBN: 9780385743785

Publication Date: 2015-08-04

From the author of the acclaimed bestseller Holes, winner of the Newbery Award and the National Book Award, comes Fuzzy Mud, a New York Times bestseller. "Sachar blends elements of mystery, suspense, and school-day life into a taut environmental cautionary tale."--Publishers Weekly Be careful. Your next step may be your last. Fifth grader Tamaya Dhilwaddi and seventh grader Marshall Walsh have been walking to and from Woodridge Academy together since elementary school. But their routine is disrupted when bully Chad Hilligas challenges Marshall to a fight. To avoid the conflict, Marshall takes a shortcut home through the off-limits woods. Tamaya, unaware of the reason for the detour, reluctantly follows. They soon get lost. And then they find trouble. Bigger trouble than anyone could ever have imagined. In the days and weeks that follow, the authorities and the U.S. Senate become involved, and what they uncover might affect the future of the world.
Supernatural? Horror?
Took

by

ISBN: 9780544551534

Publication Date: 2015-09-15

"Folks say Old Auntie takes a girl and keeps her fifty years--then lets her go and takes another one." Thirteen-year-old Daniel Anderson doesn't believe Brody Mason's crazy stories about the ghost witch who lives up on Brewster's Hill with Bloody Bones, her man-eating razorback hog. He figures Brody's probably just trying to scare him since he's the new kid . . . a "stuck-up snot" from Connecticut. But Daniel's seven-year-old sister Erica has become more and more withdrawn, talking to her lookalike doll. When she disappears into the woods oneday, he knows something is terribly wrong. Did the witch strike? Has Erica been "took"?

The Ghost of Crutchfield Hall

by

ISBN: 0547385609

Publication Date: 2010-09-06

When twelve-year-old Florence boards the crowded horse-drawn coach in London, she looks forward to a new life with her great uncle and aunt at Crutchfield Hall, an old manor house in the English countryside. Anything will be better, she thinks, than the grim London orphanage where she has lived since her parents' death. But Florence doesn't expect the ghost of her cousin Sophia, who haunts the cavernous rooms and dimly lit hallways of Crutchfield and concocts a plan to use Florence to help her achieve her murderous goals. Will Florence be able to convince the others in the household of the imminent danger and stop Sophia before it's too late?

Frozen Charlotte

by

ISBN: 9780545941082

Publication Date: 2016-11-29

An instantly gripping, edge-of-your-seat thriller filled with haunted dolls, creepy settings, and horrific twists. Dunvegan School for Girls has been closed for many years. Converted into a family home, the teachers and students are long gone. But they left something behind . . . Sophie arrives at the old schoolhouse in Skye to spend the summer with her cousins. Brooding Cameron with his scarred hand, strange Lillias with a fear of bones, and Piper, who seems just a bit too perfect to be real. And then there's her other cousin. The girl with a room full of antique dolls. The girl who shouldn't be there. The girl who died. Frozen Charlotte is a classic horror story in the creepiest of ways -with a thrilling sense of realism and a modern twist sure to capture the imagination of young teens.

One for Sorrow

by

ISBN: 9780544818095

Publication Date: 2017-07-18

Against the ominous backdrop of the influenza epidemic of 1918, Annie, a new girl at school, is claimed as best friend by Elsie, a classmate who is a tattletale, a liar, and a thief. Soon Annie makes other friends and finds herself joining them in teasing and tormenting Elsie. Elsie dies from influenza, but then she returns to reclaim Annie's friendship and punish all the girls who bullied her. Young readers who revel in spooky stories will relish this chilling tale of a girl haunted bya vengeful ghost.
Fantasy? Science Fiction?
The Littlest Bigfoot

by

ISBN: 9781481470742

Publication Date: 2016-09-13

A New York Times Bestseller "A charming story about finding a safe place to let your freak flag fly." --People "Young readers who have ever felt too big or been made to feel small will feel just right in the cheerful glow of Weiner's contemporary fairy tale." --The New York Times Book Review From the New York Times bestselling author of Hungry Heart Jennifer Weiner comes a laugh-out-loud funny and painstakingly real tale of friendship, furry creatures, and finding the place where you belong. Alice Mayfair, twelve years old, slips through the world unseen and unnoticed. Ignored by her family and shipped off to her eighth boarding school, Alice would like a friend. And when she rescues Millie Maximus from drowning in a lake one day, she finds one. But Millie is a Bigfoot, part of a clan who dwells deep in the woods. Most Bigfoots believe that people--NoFurs, as they call them--are dangerous, yet Millie is fascinated with the No-Fur world. She is convinced that humans will appreciate all the things about her that her Bigfoot tribe does not: her fearless nature, her lovely singing voice, and her desire to be a star. Alice swears to protect Millie's secret. But a league of Bigfoot hunters is on their trail, led by a lonely kid named Jeremy. And in order to survive, Alice and Millie have to put their trust in each other--and have faith in themselves--above all else.

The Moon Platoon

by

ISBN: 9780062445971

Publication Date: 2017-05-02

Star Wars meets Ridley Pearson's Kingdom Keepers in this high-stakes intergalactic adventure! The Moon Platoon is the first book in an action-packed series for tweens that's perfect for fans of Eoin Colfer and Lisa McMann. In the year 2085, Benny Love is pretty used to surviving on what he and his family can scavenge on Earth. But when he wins a scholarship for a life-changing trip to visit the Lunar Taj, the first-ever resort on the Moon, Benny thinks he finally has a chance to give his family a better life. Benny can't wait to fly his very own Space Runner, practice reverse bungee jumping, and explore craters on the dark side of the Moon. But he gets more than he expected when he and the other kids discover the Moon has secrets no one else knows about. Benny is a long way from home--and soon there might not be an Earth to go back to.