Skip to Main Content
It looks like you're using Internet Explorer 11 or older. This website works best with modern browsers such as the latest versions of Chrome, Firefox, Safari, and Edge. If you continue with this browser, you may see unexpected results.
Destiny Discovery Library Catalog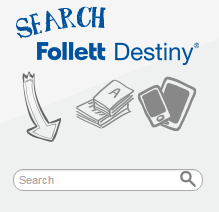 Destiny Discover
Destiny Discover is the library catalog that allows you to search for books, DVDs, audiobooks, ebooks, and even digital media that the district provides through all 8 of the Wilson libraries.
Log into Destiny Quest with your school user name and school password to access your own account. Destiny Discover
Good Reads!
Cyclone

by

ISBN: 9781481435253

Publication Date: 2017-05-16

Nora's whole world plummets faster than the Cyclone roller coaster when her cousin Riley falls into a coma that Nora thinks is her fault in this warm, big-hearted debut middle grade novel from #1 New York Times bestselling author, Doreen Cronin. Riding the Cyclone, the world famous Coney Island rollercoaster, was supposed to be the highlight of Nora's summer. But right after they disembark, Nora's cousin Riley falls to the ground...and doesn't get up. Nora had begged and dragged Riley onto the ride, and no matter what the doctors say, that she had a heart condition, that it could have happened at any time, Nora knows it was her fault. Then, as Riley comes out of her coma, she's not really Riley at all. The cousin who used to be loud and funny and unafraid now can't talk, let alone go to the bathroom by herself. No, she's only 10% Riley. Nora, guilt eating her up on the inside worse than a Coney Island hotdog, thinks she knows how to help. How to get 100% Riley back. But what Nora doesn't realize is that the guilt will only get worse as that percentage rises.

Hear the Wolves

by

ISBN: 9781338043587

Publication Date: 2017-03-28

It's survival of the strongest in a contemporary, girl-versus-wild middle grade debut from Fire & Flood author Victoria Scott! Sloan is a hunter. So she shouldn't be afraid of anything. But ever since her mom left the family and she lost hearing in one ear in a blizzard, it's been hard to talk to people, and near-impossible to go anywhere or do anything without her dad or big sister within eyesight - it makes her too scared to be on her own. When they leave her home alone for what should only be two nights, she's already panicked. Then the snow starts falling and doesn't stop. One of her neighbors is hurt in an accident. And the few people still left in Rusic need to make it to the river and the boat that's tied there - their only way to get to a doctor from their isolated Alaska town. But the woods are icy cold, and the wolves are hungry. Sloan and her group are running out of food, out of energy, and out of time. That's when the wolves start hunting them. . . .

Inside Hudson Pickle

by

ISBN: 9781771386203

Publication Date: 2017-09-05

Cut from AAA hockey last season, seventh-grader Hudson Pickle needs to make the basketball team this year. But, after having an asthma attack at the first tryout, his chances aren't looking good. His former best friend, Trevor, is also trying out. But he won't even speak to Hudson since Hudson had all but ignored him while concentrating on hockey. And as if that wasn't bad enough, now his uncle Vic --- who's been staying with him and his mom since a suspicious fire at his house ---has been diagnosed with a genetic respiratory illness. Could this mean Hudson has something worse than asthma? And while this DNA mystery is being unraveled, will the truth about what happened to his father finally be revealed as well? Yolanda Ridge's compelling coming-of-age novel for middle-graders combines humor, action and mystery --- with a dose of genetic science to keep things interesting. It offers a rich reading experience with complex characters and a multilayered story. Thoughtful, authentic and likeable Hudson will inspire readers with the grit and perseverance he relies on to get through his difficulties, and the self-deprecating wit he uses to manage middle-school social dynamics, evolving friendships and a changing family structure. There are also multiple mysteries running throughout the story --- involving Hudson's father, his uncle and his own health --- that are sure to keep the pages turning.

Last Day on Mars

by

ISBN: 9780062306715

Publication Date: 2017-02-14

"Last Day on Mars is thrillingly ambitious and imaginative. Like a lovechild of Gravity and The Martian, it's a rousing space opera for any age, meticulously researched and relentlessly paced, that balances action, science, humor, and most importantly, two compelling main characters in Liam and Phoebe. A fantastic start to an epic new series." --Soman Chainani, New York Times bestselling author of the School for Good and Evil series "Emerson's writing explodes off the page in this irresistible space adventure, filled with startling plot twists, diabolical aliens, and (my favorite!) courageous young heroes faced with an impossible task." --Lisa McMann, New York Times bestselling author of the Unwanteds series It is Earth year 2213--but, of course, there is no Earth anymore. Not since it was burned to a cinder by the sun, which has mysteriously begun the process of going supernova. The human race has fled to Mars, but this was only a temporary solution while we have prepared for a second trip: a one-hundred-fifty-year journey to a distant star, our best guess at where we might find a new home. Liam Saunders-Chang is one of the last humans left on Mars. The son of two scientists who have been racing against time to create technology vital to humanity's survival, Liam, along with his friend Phoebe, will be on the last starliner to depart before Mars, like Earth before it, is destroyed. Or so he thinks. Because before this day is over, Liam and Phoebe will make a series of profound discoveries about the nature of time and space and find out that the human race is just one of many in our universe locked in a dangerous struggle for survival.

The Littlest Bigfoot

by

ISBN: 9781481470742

Publication Date: 2016-09-13

A New York Times Bestseller "A charming story about finding a safe place to let your freak flag fly." --People "Young readers who have ever felt too big or been made to feel small will feel just right in the cheerful glow of Weiner's contemporary fairy tale." --The New York Times Book Review From the New York Times bestselling author of Hungry Heart Jennifer Weiner comes a laugh-out-loud funny and painstakingly real tale of friendship, furry creatures, and finding the place where you belong. Alice Mayfair, twelve years old, slips through the world unseen and unnoticed. Ignored by her family and shipped off to her eighth boarding school, Alice would like a friend. And when she rescues Millie Maximus from drowning in a lake one day, she finds one. But Millie is a Bigfoot, part of a clan who dwells deep in the woods. Most Bigfoots believe that people--NoFurs, as they call them--are dangerous, yet Millie is fascinated with the No-Fur world. She is convinced that humans will appreciate all the things about her that her Bigfoot tribe does not: her fearless nature, her lovely singing voice, and her desire to be a star. Alice swears to protect Millie's secret. But a league of Bigfoot hunters is on their trail, led by a lonely kid named Jeremy. And in order to survive, Alice and Millie have to put their trust in each other--and have faith in themselves--above all else.

Long Way Down

by

ISBN: 9781481438254

Publication Date: 2017-10-24

A Newbery Honor Book A Coretta Scott King Honor Book A Printz Honor Book A Los Angeles Times Book Prize Winner for Young Adult Literature Longlisted for the National Book Award for Young People's Literature Winner of the Walter Dean Myers Award An Edgar Award Winner for Best Young Adult Fiction Parents' Choice Gold Award Winner An Entertainment Weekly Best YA Book of 2017 A Vulture Best YA Book of 2017 A Buzzfeed Best YA Book of 2017 An ode to Put the Damn Guns Down, this is National Book Award finalist and New York Times bestseller Jason Reynolds's fiercely stunning novel that takes place in sixty potent seconds--the time it takes a kid to decide whether or not he's going to murder the guy who killed his brother. A cannon. A strap. A piece. A biscuit. A burner. A heater. A chopper. A gat. A hammer A tool for RULE Or, you can call it a gun. That's what fifteen-year-old Will has shoved in the back waistband of his jeans. See, his brother Shawn was just murdered. And Will knows the rules. No crying. No snitching. Revenge. That's where Will's now heading, with that gun shoved in the back waistband of his jeans, the gun that was his brother's gun. He gets on the elevator, seventh floor, stoked. He knows who he's after. Or does he? As the elevator stops on the sixth floor, on comes Buck. Buck, Will finds out, is who gave Shawn the gun before Will took the gun. Buck tells Will to check that the gun is even loaded. And that's when Will sees that one bullet is missing. And the only one who could have fired Shawn's gun was Shawn. Huh. Will didn't know that Shawn had ever actually USED his gun. Bigger huh. BUCK IS DEAD. But Buck's in the elevator? Just as Will's trying to think this through, the door to the next floor opens. A teenage girl gets on, waves away the smoke from Dead Buck's cigarette. Will doesn't know her, but she knew him. Knew. When they were eight. And stray bullets had cut through the playground, and Will had tried to cover her, but she was hit anyway, and so what she wants to know, on that fifth floor elevator stop, is, what if Will, Will with the gun shoved in the back waistband of his jeans, MISSES. And so it goes, the whole long way down, as the elevator stops on each floor, and at each stop someone connected to his brother gets on to give Will a piece to a bigger story than the one he thinks he knows. A story that might never know an END...if WILL gets off that elevator. Told in short, fierce staccato narrative verse, Long Way Down is a fast and furious, dazzlingly brilliant look at teenage gun violence, as could only be told by Jason Reynolds.

Maxi's Secrets

by

ISBN: 9780399545689

Publication Date: 2017-08-01

When a BIG, lovable, does-it-her-way dog wiggles her way into the heart of a loudmouth pipsqueak of a boy, wonderful things happen that help him become a bigger, better person. Perfect for fans of Wonder and Because of Winn-Dixie. Timminy knows that moving to a new town just in time to start middle school when you are perfect bully bait is less than ideal. But he gets a great consolation prize in Maxi--a gentle giant of a dog who the family quickly discovers is deaf. Timminy is determined to do all he can to help Maxi--after all, his parents didn't return him because he was a runt. But when the going gets rough for Timminy, who spends a little too much time getting shoved into lockers at school, Maxi ends up being the one to help him--along with their neighbor, Abby, who doesn't let her blindness define her and bristles at Timminy's "poor-me" attitude. It turns out there's more to everyone than what's on the surface, whether it comes to Abby, Maxi, or even Timminy himself.

Miles Morales

by

ISBN: 9781484787489

Publication Date: 2017-08-01

"Everyone gets mad at hustlers, especially if you're on the victim side of the hustle. And Miles knew hustling was in his veins." Miles Morales is just your average teenager. Dinner every Sunday with his parents, chilling out playing old-school video games with his best friend, Ganke, crushing on brainy, beautiful poet Alicia. He's even got a scholarship spot at the prestigious Brooklyn Visions Academy. Oh yeah, and he's Spider Man. But lately, Miles's spidey-sense has been on the fritz. When a misunderstanding leads to his suspension from school, Miles begins to question his abilities. After all, his dad and uncle were Brooklyn jack-boys with criminal records. Maybe kids like Miles aren't meant to be superheroes. Maybe Miles should take his dad's advice and focus on saving himself. As Miles tries to get his school life back on track, he can't shake the vivid nightmares that continue to haunt him. Nor can he avoid the relentless buzz of his spidey-sense every day in history class, amidst his teacher's lectures on the historical "benefits" of slavery and the importance of the modern-day prison system. But after his scholarship is threatened, Miles uncovers a chilling plot, one that puts his friends, his neighborhood, and himself at risk. It's time for Miles to suit up.
More Good Reads!
The Moon Platoon

by

ISBN: 9780062445971

Publication Date: 2017-05-02

Star Wars meets Ridley Pearson's Kingdom Keepers in this high-stakes intergalactic adventure! The Moon Platoon is the first book in an action-packed series for tweens that's perfect for fans of Eoin Colfer and Lisa McMann. In the year 2085, Benny Love is pretty used to surviving on what he and his family can scavenge on Earth. But when he wins a scholarship for a life-changing trip to visit the Lunar Taj, the first-ever resort on the Moon, Benny thinks he finally has a chance to give his family a better life. Benny can't wait to fly his very own Space Runner, practice reverse bungee jumping, and explore craters on the dark side of the Moon. But he gets more than he expected when he and the other kids discover the Moon has secrets no one else knows about. Benny is a long way from home--and soon there might not be an Earth to go back to.

Mustaches for Maddie

by

ISBN: 9781629723303

Publication Date: 2017-10-03

Based on a true story. Twelve-year-old Maddie has a quirky sense of humor and loves making her classmates laugh by slapping on fake mustaches every chance she gets. Being funny gets her noticed by class queen Cassie, and things are looking up when Maddie is cast as Juliet in the school play. Maybe Juliet could wear a mustache? When Maddie starts tripping when she walks and her hand starts curling up at her side, her mom takes her to the doctor, who confirms Maddie has a brain tumor. In an instant, her world is turned upside down. Maddie doesn't want anyone else to know. Especially Cassie, whose jealousy has turned to bullying. What about Maddie's chance to play Juliet opposite the cutest boy in the sixth grade? What if the doctors can't get the ugly tumor monster out of her brain? As Maddie's surgery approaches, she wonders if her illness is giving her super powers because her imagination is bigger than ever, her courage is stronger than ever, and her compassion is about to be felt by more people than she ever imagined.

One for Sorrow

by

ISBN: 9780544818095

Publication Date: 2017-07-18

Against the ominous backdrop of the influenza epidemic of 1918, Annie, a new girl at school, is claimed as best friend by Elsie, a classmate who is a tattletale, a liar, and a thief. Soon Annie makes other friends and finds herself joining them in teasing and tormenting Elsie. Elsie dies from influenza, but then she returns to reclaim Annie's friendship and punish all the girls who bullied her. Young readers who revel in spooky stories will relish this chilling tale of a girl haunted bya vengeful ghost.

The Perfect Score

by

ISBN: 9781101938256

Publication Date: 2017-10-03

From the beloved author of Because of Mr. Terupt and its sequels comes The Perfect Score, a new middle-grade school story with a very special cast of unforgettable characters who discover that getting the perfect score--both on the test and in life--is perhaps not so perfect after all. No one likes or wants to take the statewide assessment tests. Not the students in Mrs. Woods's sixth-grade class. Not even Mrs. Woods. It's not as if the kids don't already have things to worry about. . . . Under pressure to be the top gymnast her mother expects her to be, RANDI starts to wonder what her destiny truly holds. Football-crazy GAVIN has always struggled with reading and feels as dumb as his high school-dropout father. TREVOR acts tough and mean, but as much as he hates school, he hates being home even more. SCOTT's got a big brain and an even bigger heart, especially when it comes to his grandfather, but his good intentions always backfire in spectacular ways. NATALIE, know-it-all and aspiring lawyer, loves to follow the rules--only this year, she's about to break them all. The whole school is in a frenzy with test time approaching--kids, teachers, the administration. Everyone is anxious. When one of the kids has a big idea for acing the tests, they're all in. But things get ugly before they get better, and in the end, the real meaning of the perfect score surprises them all.

Slider

by

ISBN: 9780763690700

Publication Date: 2017-09-12

Competitive eating vies with family expectations in a funny, heartfelt novel for middle-grade readers by National Book Award winner Pete Hautman. David can eat an entire sixteen-inch pepperoni pizza in four minutes and thirty-six seconds. Not bad. But he knows he can do better. In fact, he'll have to do better: he's going to compete in the Super Pigorino Bowl, the world's greatest pizza-eating contest, and he has to win it, because he borrowed his mom's credit card and accidentally spent $2,000 on it. So he really needs that prize money. Like, yesterday. As if training to be a competitive eater weren't enough, he's also got to keep an eye on his little brother, Mal (who, if the family believed in labels, would be labeled autistic, but they don't, so they just label him Mal). And don't even get started on the new weirdness going on between his two best friends, Cyn and HeyMan. Master talent Pete Hautman has cooked up a rich narrative shot through with equal parts humor and tenderness, and the result is a middle-grade novel too delicious to put down.

The Special Ones

by

ISBN: 9780544912298

Publication Date: 2017-07-18

Esther is one of the Special Ones: four young spiritual guides who live in a remote farmhouse under the protection of a mysterious cult leader. He watches them around the clock, ready to punish them if they forget who they are--and all the while, broadcasting their lives to eager followers on the outside. Esther knows that if she stops being Special, he will "renew" her. Nobody knows what happens to the Special Ones who are taken away from the farm for renewal, but Esther fears the worst. Like an actor caught up in an endless play, she must keep up the performance if she wants to survive long enough to escape.

The Way to Bea

by

ISBN: 9780316236676

Publication Date: 2017-09-19

With a charming voice, winning characters, and a perfectly-woven plot, Kat Yeh delivers a powerful story of friendship and finding a path towards embracing yourself. Everything in Bea's world has changed. She's starting seventh grade newly friendless and facing big changes at home, where she is about to go from only child to big sister. Feeling alone and adrift, and like her words don't deserve to be seen, Bea takes solace in writing haiku in invisible ink and hiding them in a secret spot. But then something incredible happens--someone writes back. And Bea begins to connect with new friends, including a classmate obsessed with a nearby labyrinth and determined to get inside. As she decides where her next path will lead, she just might discover that her words--and herself--have found a new way to belong.

When Friendship Followed Me Home

by

ISBN: 9780147510068

Publication Date: 2017-07-18

"If you have middle schoolers who are too young to fully grasp John Green's The Fault in Our Stars and love dogs, give them this sweet tearjerker." -- School Library Journal "In this beguiling tearjerker, a foster kid's luck slowly changes after he befriends a scruffy pup he finds outside the library."--People magazine Ben Coffin has never been one for making friends. As a former foster kid, he knows people can up and leave without so much as a goodbye. Ben prefers to spend his time with the characters in his favorite sci-fi books...until he rescues an abandoned mutt from the alley next-door to the Coney Island Library. Scruffy little Flip leads Ben to befriend a fellow book-lover named Halley--yes, like the comet--a girl unlike anyone he has ever met. Ben begins thinking of her as "Rainbow Girl" because of her crazy-colored clothes and her laugh, pure magic, the kind that makes you smile away the stormiest day. Rainbow Girl convinces Ben to write a novel with her. But as their story unfolds Ben's life begins to unravel, and Ben must discover for himself the truth about friendship and the meaning of home.

The Wrong Train

by

ISBN: 9781338121254

Publication Date: 2017-07-25

Light the candles and shut the door, The Wrong Train is a deliciously creepy and terrifyingly good collection of scary stories, for fans of Patrick Ness, R.L. Stine, and Emily Carroll. Imagine you've just managed to catch your train and you realize it's the wrong one. You'd be annoyed of course, but not scared . . . Yet. Imagine you get off the wrong train at the next station hoping to catch one back the way you came. But the station is empty. Again, you'd be annoyed, but not scared . . . Yet. Imagine someone comes to the station, a stranger who starts to tell you stories to help pass the time. But these aren't any old stories-they're nightmares that come with a price to pay. And you want them to stop. Scared yet? You will be.

As Brave As You

by

ISBN: 9781481415910

Publication Date: 2017-05-09

Kirkus Award Finalist Schneider Family Book Award Winner Coretta Scott King Author Honor Book When two brothers decide to prove how brave they are, everything backfires--literally--in this "pitch-perfect contemporary novel" (Kirkus Reviews, starred review) by the winner of the Coretta Scott King - John Steptoe Award. Genie's summer is full of surprises. The first is that he and his big brother, Ernie, are leaving Brooklyn for the very first time to spend the summer with their grandparents all the way in Virginia--in the COUNTRY! The second surprise comes when Genie figures out that their grandfather is blind. Thunderstruck, Genie peppers Grandpop with questions about how he hides it so well (besides wearing way cool Ray-Bans). How does he match his clothes? Know where to walk? Cook with a gas stove? Pour a glass of sweet tea without spilling it? Genie thinks Grandpop must be the bravest guy he's ever known, but he starts to notice that his grandfather never leaves the house--as in NEVER. And when he finds the secret room that Grandpop is always disappearing into--a room so full of songbirds and plants that it's almost as if it's been pulled inside-out--he begins to wonder if his grandfather is really so brave after all. Then Ernie lets him down in the bravery department. It's his fourteenth birthday, and, Grandpop says to become a man, you have to learn how to shoot a gun. Genie thinks that is AWESOME until he realizes Ernie has no interest in learning how to shoot. None. Nada. Dumbfounded by Ernie's reluctance, Genie is left to wonder--is bravery and becoming a man only about proving something, or is it just as important to own up to what you won't do?

Awkward

by

ISBN: 9780316381307

Publication Date: 2015-07-21

Cardinal rule #1 for surviving school: Don't get noticed by the mean kids. Cardinal rule #2 for surviving school: Seek out groups with similar interests and join them. On her first day at her new school, Penelope--Peppi--Torres reminds herself of these basics. But when she trips into a quiet boy in the hall, Jaime Thompson, she's already broken the first rule, and the mean kids start calling her the "nerder girlfriend." How does she handle this crisis? By shoving poor Jaime and running away! Falling back on rule two and surrounding herself with new friends in the art club, Peppi still can't help feeling ashamed about the way she treated Jaime. Things are already awkward enough between the two, but to make matters worse, he's a member of her own club's archrivals--the science club! And when the two clubs go to war, Peppi realizes that sometimes you have to break the rules to survive middle school!

A Babysitter's Guide to Monster Hunting #1

by

ISBN: 9780062437839

Publication Date: 2017-06-20

The Last Kids on Earth meets Goosebumps in this hilarious new series about a secret society of babysitters who protect kids from the monsters that really do live under their beds! When middle schooler Kelly Ferguson's Halloween plans switch from party-going to babysitting, she thinks the scariest part of her night will be the death of her social life. But then Baby Jacob gets kidnapped by the Boogeyman's minions and Kelly learns there's a whole lot more to childcare than free snacks and Netflix. Like chasing shadow monsters, drop-kicking Toadies, and mastering monster-fighting moves like the Naptime Headlock and Playground Punch. Now, with the help of an ancient handbook and a secret society of butt-kicking babysitters, Kelly sets out to destroy the Boogeyman before he brings Jacob's nightmares to life. But when the monsters' trail leads to her school's big Halloween bash, Kelly will have to prove she can save the world--without totally embarrassing herself in front of her friends. Packed with black-and-white illustrations and insider secrets from the world of monster hunting, A Babysitter's Guide to Monster Hunting is full of tricks, treats, and terrifying twists!

The Big Bad Fox

by

ISBN: 9781626723313

Publication Date: 2017-06-20

Fox dreams of being the terror of the hen house, but no one on the farm is the least bit intimidated by him--when he picks a fight with a hen, he always ends up on the losing end. He tries to take lessons from his mentor Wolf, but Fox's incompetence always gets in the way. It looks like Fox will have to spend the rest of his life eating turnips.But then Fox and Wolf have a brilliant idea. If Fox steals some eggs, he could raise the chicks himself and have a plump, juicy chicken dinner. But Fox's plans change when three adorable chicks hatch and call him "Mommy." Beautifully rendered in watercolor by Benjamin Renner, The Big Bad Fox is a hilarious and surprisingly tender parable about parenthood that's sure to be a hit with new parents (and their kids too).

A Boy Called Bat

by

ISBN: 9780062445827

Publication Date: 2017-03-14

The first book in a funny, heartfelt, and irresistible young middle grade series starring an unforgettable young boy on the autism spectrum, from acclaimed author Elana K. Arnold and with illustrations by Charles Santoso. For Bixby Alexander Tam (nicknamed Bat), life tends to be full of surprises--some of them good, some not so good. Today, though, is a good-surprise day. Bat's mom, a veterinarian, has brought home a baby skunk, which she needs to take care of until she can hand him over to a wild-animal shelter. But the minute Bat meets the kit, he knows they belong together. And he's got one month to show his mom that a baby skunk might just make a pretty terrific pet. "This sweet and thoughtful novel chronicles Bat's experiences and challenges at school with friends and teachers and at home with his sister and divorced parents. Approachable for younger or reluctant readers while still delivering a powerful and thoughtful story" (from the review by Brightly.com, which named A Boy Called Bat a best book of 2017).

Closing down Heaven

by

ISBN: 9780889955431

Publication Date: 2017-03-30

In this whimsical free-verse novel for young adults, sixteen-year-old Hunter propels himself out of this world -- literally -- and into the next after pushing his ultralight bike beyond risk. He arrives in what he understands to be heaven, to be met by his celestial guide, name of Archie, who tries to interpret for Hunter the rules of this rather confusing realm. It's not long before Hunter meets a girl he used to know in Grade 6, name of Trinity, and from this point on his mission is to love her and protect her. Protect her from herself -- and also from the nasty character she became involved with before she died of a drug overdose. As part of this mission, Hunter is able to take advantage of a new policy in heaven that allows some recently deceased to return and pick up their lives again. In this way, Hunter tries to prevent the death of Trinity -- but it doesn't work. Complications multiply until both Hunter and Trinity find a redemptive path which gives them both back their real lives and new opportunities. Lesley Choyce has woven a sometimes comic, sometimes moving narrative, focusing on the kinds of mixed-up teens he seems to know so well. In the end love conquers almost everything, but the twists and turns are engaging and illuminating, as Hunter and Trinity find their way to happiness.

Count All Her Bones

by

ISBN: 9781627795913

Publication Date: 2017-05-02

Six months after seventeen-year-old Griffin Sawyer helped Cheyenne (who's blind) escape from his father, a criminal looking to dig into her family's deep pockets by holding her hostage, Roy Sawyer is awaiting trial. As Griffin prepares to testify against his dad, he and Cheyenne reconnect over the phone. They make plans to meet up in person, but when she gets there, Griffin's nowhere to be found. Instead, Cheyenne comes face to face with Roy's henchmen once again. Can she use her new skills and new confidence to free herself? And is Griffin a pawn--or a player? April Henry weaves another edge-of-your-seat thriller in this much-anticipated sequel to Girl, Stolen. A Christy Ottaviano Book

Felix Yz

by

ISBN: 9780425288504

Publication Date: 2017-06-06

"If it wasn't for the fused-with-Zyx thing, I suppose I would just be normal--whatever that means." When Felix Yz was three years old, a hyperintelligent fourth-dimensional being became fused inside him after one of his father's science experiments went terribly wrong. The creature is friendly, but Felix--now thirteen--won't be able to grow to adulthood while they're still melded together. So a risky Procedure is planned to separate them . . . but it may end up killing them both instead. This book is Felix's secret blog, a chronicle of the days leading up to the Procedure. Some days it's business as usual--time with his close-knit family, run-ins with a bully at school, anxiety about his crush. But life becomes more out of the ordinary with the arrival of an Estonian chess Grandmaster, the revelation of family secrets, and a train-hopping journey. When it all might be over in a few days, what matters most? Told in an unforgettable voice full of heart and humor, Felix Yz is a groundbreaking story about how we are all separate, but all connected too.

Forever, or a Long, Long Time

by

ISBN: 9780062385680

Publication Date: 2017-03-07

3 starred reviews * A Kirkus Best Book of 2017 * A New York Public Library Top Ten Books for Kids pick * An ALA Notable Book * 2018 NCTE Charlotte Huck Honor Book From rising star Caela Carter, author of My Life with the Liars, comes a captivating and heartfelt story about siblings who learn that love can never be divided, only multiplied. Flora and her brother, Julian, don't believe they were born. They've lived in so many foster homes, they can't remember where they came from. And even now that they've been adopted, Flora still struggles to believe that they've found their forever home. So along with their new mother, Flora and Julian begin a journey to go back and discover their past--for only then can they really begin to build their future. Perfect for fans of Rebecca Stead's When You Reach Me, Kathryn Erskine's Mockingbird, and Ali Benjamin's The Thing About Jellyfish

Ghost Girl [3]

by

ISBN: 9781680211580

Publication Date: 2016-12-31

Theme: Hi-Lo, emergent, teen content, full-color, Verse. A new place for a family vacation. A long walk on a dark night. Something appears up ahead. A girl. She's as pale as a pearl. A ghost? Yes! She visits this same beach each year ... for three days. Why? It's where she drowned. And now she's back searching for something. TERL Boosters offer expansion opportunities for your Teen Emergent Reader Libraries. Unlike the libraries, Booster titles are sold individually. Each Booster level supports a TERL library. Boosters can also stand alone and are excellent hi-lo classroom books. There are six Booster titles supporting each level of TERL. STEM Boosters offer a unique way to delve into science, technology, engineering, and math for emergent readers. Verse Boosters introduce readers to the versatility of contemporary poetry.

I Am Fartacus

by

ISBN: 9781481464208

Publication Date: 2017-04-18

It's jocks vs. nerds as a tween and his cadre of misfits go to hilarious lengths to bring down their enemies in this laugh-out-loud MAX novel. Chub is a short, accidentally bald, middle school outcast with no chance of ever becoming one of the popular kids. With help from his personal band of like-minded misfits (not to mention tactics gleaned from the Colonel, a US military vet with toenail issues), Chub's determined to bring down his nemesis, class hero and now potential class president, Archer, or the Arch--the very guy who betrayed Chub with the lice-killing potion that left him bald as a billiard ball. If the Arch gets to be president, Chub knows his life is officially over. Chub's got a lot of dirt on the Arch: embarrassing photos and underwear about to fly from the school flagpole, for starters. But then he discovers that there are some very dangerous skeletons in Archer's closet, and more at stake than just a few middle school reputations. With a lot of help from his friends, Chub sets off to bring down an evil empire--and inadvertently become the least likely hero that Alanmoore Middle School's ever seen.

Inside Out and Back Again

by

ISBN: 9780061962790

Publication Date: 2013-01-02

For all the ten years of her life, Ha has only known Saigon: the thrills of its markets, the joy of its traditions, the warmth of her friends close by, and the beauty of her very own papaya tree. But now the Vietnam War has reached her home. Ha and her family are forced to flee as Saigon falls, and they board a ship headed toward hope. This is the moving story of one girl's year of change, dreams, grief, and healing as she journeys from one country to another, one life to the next.

My Future Ex-Girlfriend

by

ISBN: 9780451475411

Publication Date: 2017-05-16

Brimming with humor and hope, this contemporary tween comedy is perfect for fans of Tommy Greenwald and Megan Schul.a What happens when you finally capture the attention of your first crush? Do you suddenly know what to do? Do you magically learn the secrets of love? Not even close. Follow eighth graders Sam (the class clown), Duke (the intellectual), and Chollie (the athlete) as they fumble their way through boyfriend territory for the very first time. With so much to worry about as the school year ends-finals, commencement speeches, the baseball championship, the graduation party-the guys feel ill-equipped to handle the stress of their new relationships. But if they're dumped before the last day of middle school school, they'll start high school as losers. The. Pressure. Is. On.a Want more Sam, Duke, and Chollie? Check out Me and Miranda Mullalyby Jake Gerhardt.
More to read!
Notes from the Midnight Driver

by

ISBN: 0439757819

Publication Date: 2007-10-01

When sixteen-year-old Alex hatches one of his possibly-not-so-brilliant plans to get his parents back together, it ends up backfiring in a major way (as in police officers being called to the scene-major). Now, after being sentenced to do community service at an old folks' home, Alex has one more thing to contend with: Solomon Lewis. Sol is a feisty senior who pours ice water in Alex's lap, tries to hook Alex up with a pixie-ninja master love interest, taunts the other patients, and loves to tell Alex off using inappropriate foreign words. This is the story of Alex Gregory, his guitar, his bestgal pal, Laurie, and the friendship of a lifetime.

One of Us Is Lying

by

ISBN: 9781524714680

Publication Date: 2017-05-30

"Pretty Little Liars meets The Breakfast Club" (EW.com) in this "flat-out addictive" (RT Book Reviews) story of what happens when five strangers walk into detention and only four walk out alive. Pay close attention and you might solve this. On Monday afternoon, five students at Bayview High walk into detention. Bronwyn, the brain, is Yale-bound and never breaks a rule. Addy, the beauty, is the picture-perfect homecoming princess. Nate, the criminal, is already on probation for dealing. Cooper, the athlete, is the all-star baseball pitcher. And Simon, the outcast, is the creator of Bayview High's notorious gossip app. Only, Simon never makes it out of that classroom. Before the end of detention Simon's dead. And according to investigators, his death wasn't an accident. On Monday, he died. But on Tuesday, he'd planned to post juicy reveals about all four of his high-profile classmates, which makes all four of them suspects in his murder. Or are they the perfect patsies for a killer who's still on the loose? Everyone has secrets, right? What really matters is how far you would go to protect them. An EW.com Selection for the Book You Have to Read in May A Bustle.com Best Young Adult Book of May 2017 A Popcrush Most Anticipated Young Adult Book of May 2017 "You'll tear through this juicy, super-fun (if murder can ever be fun?) thriller."--Bustle.com "An addictive, devour-in-one-sitting thriller with so many twists and turns you'll be wondering until the very end: Who really killed Simon?"--Kara Thomas, author of The Darkest Corners and Little Monsters ★"[As] McManus's intense mystery unfolds...each character becomes more complex and nuanced, adding richness and depth to the suspense." --VOYA, Starred Review "This fast-paced blend of Gossip Girl, Pretty Little Liars, and classic John Hughes will leave readers racing to the finish as the try to unravel the mystery on their own."--Kirkus Reviews

Otherwise

by

ISBN: 9781622508914

Publication Date: 2014-07-22

Theme: Hi-lo, Young Adult, teen, realistic fiction, poetry, verse, gender equality, sexuality, coming of age. A law has been passed. There will be no more genders. Everyone must appear gender neutral. No more boys. No more girls. Just ... Otherwise. Same bland clothes. Same fuzzy heads. "Spark" dreads the countdown leading up to the finality of the new law's passage. Her parents are for it. They're tired of conforming to society's standards. But they allow her to take off for a quick camping trip to gather her thoughts. At the campsite, she meets "Whistler." And the attraction is instant and mutual. But who is Whistler? And what is Whistler? Boy? Or girl? This gender-bending story in verse will make readers question everything they thought they knew about love, chemistry, and cultural norms. Just like prose, a novel in verse tells a story. But verse is unique because readers access the text through short "chapters," or poems. The varying lengths of the chapters are ideal for a struggling reader, giving them breaks to collect their thoughts, to imagine the characters in their mind's eye, and to set the scene--like a frame in a movie. The structure of poetry makes the books appear less intimidating, with plenty of airy white space. Moreover, the depth and substance conveyed in verse is every bit as deep and real as in a Gravel Road prose novel.

Posted

by

ISBN: 9780062338204

Publication Date: 2017-05-02

With multiple starred reviews, don't miss this humorous, poignant, and original contemporary story about bullying, broken friendships, social media, and the failures of communication between kids. From John David Anderson, author of the acclaimed Ms. Bixby's Last Day. In middle school, words aren't just words. They can be weapons. They can be gifts. The right words can win you friends or make you enemies. They can come back to haunt you. Sometimes they can change things forever. When cell phones are banned at Branton Middle School, Frost and his friends Deedee, Wolf, and Bench come up with a new way to communicate: leaving sticky notes for each other all around the school. It catches on, and soon all the kids in school are leaving notes--though for every kind and friendly one, there is a cutting and cruel one as well. In the middle of this, a new girl named Rose arrives at school and sits at Frost's lunch table. Rose is not like anyone else at Branton Middle School, and it's clear that the close circle of friends Frost has made for himself won't easily hold another. As the sticky-note war escalates, and the pressure to choose sides mounts, Frost soon realizes that after this year, nothing will ever be the same.

The Principal's Bra Is Missing

by

ISBN: 9781250091321

Publication Date: 2017-05-02

When you're a sixth-grade nobody, the last person you wan to accidentally zonk with a volleyball is Sloan "Selfie" St. Clair--the eighth-grade glamour queen of the school. But that's what happens to Becca Birnbaum, and it only gets worse when she tries to do Selfie a favor. She grabs the wrong shopping bag from the principal's office -- one containing a very personal item. and even that might not be so bad, if only Selfie didn't immediately lose it. If they don't get it back ASAP, they're toast. They try not to panic--until they hear that the Biggest Prank Ever is about to happen. Can the school's oddest couple stop the disaster of a lifetime?Here is an illustrated novel that will appeal to fans of Jeff Kinney, Rachel Renee Russell (Dork Diaries), and Raina Telgemeier.

Reformed

by

ISBN: 9780545902526

Publication Date: 2017-03-28

What's harder than surviving a school bully? Surviving a school full of bullies! The word troublemaker has never been used to describe Ian Hart. Nice, nerdy . . . clueless, if you ask the girls in his class. Which is exactly why he gets along with Devon Crawford. Devon's the kind of kid who speaks his mind and stands up for his friends - even if he sometimes takes it too far. But after one of Devon's pranks goes terribly awry, Ian finds himself shipped off to the scariest place on earth - bully reform school - where the pranks are more twisted, the bullies are more brutal, and good kids like Ian don't stand a chance.

Restart

by

ISBN: 9781338053777

Publication Date: 2017-05-30

Master storyteller Gordon Korman balances humour and heart in this reinvention story about a bully who must come to terms with who he was and what kind of person he wants to become. Chase Ambrose forgets everything after falling off a roof and losing consciousness. He forgets his name. He forgets his parents. He forgets what he was doing up there on that roof. And he forgets that he's the biggest bully at Hiawassee Middle School, along with his two best buddies Aaron and Bear. Chase is shocked to learn how he bullied and tormented kids at school. He ruined lives. One kid left town because of him. And worst of all, even his little half-sister is terrified of him. Was he really such a monster? Determined to reinvent himself, Chase joins video club and befriends some of the kids who used to consider him a number-one enemy. But some people aren't so quick to forgive and forget. Can Chase really change who he is? Or will the old him merely come back over time?

So B. It

by

ISBN: 9780064410472

Publication Date: 2005-10-04

Now a major motion picture starring Alfre Woodard, Jessica Collins, John Heard, Jacinda Barrett, Cloris Leachman, and Talitha Bateman--in theaters October 2017! From acclaimed author Sarah Weeks comes a touching coming-of-age story about a young girl who goes on a cross-country journey to discover the truth about her parents, which the New York Times called "a remarkable novel." Perfect for fans of Rebecca Stead's When You Reach Me and Ali Benjamin's The Thing About Jellyfish. She doesn't know when her birthday is or who her father is. In fact, everything about Heidi and her mentally disabled mother's past is a mystery. When a strange word in her mother's vocabulary begins to haunt her, Heidi sets out on a cross-country journey in search of the secrets of her past. Far away from home, pieces of her puzzling history come together. But it isn't until she learns to accept not knowing that Heidi truly arrives.

Soar

by

ISBN: 9780147513151

Publication Date: 2017-01-03

Newbery Honor winner Joan Bauer hits a home run with her newest protagonist, who always sees the positive side of any situation. Jeremiah is not one to let anything keep him down. Starting with his adoption by computer genius Walt, Jeremiah has looked on his life as a series of lucky breaks. When a weak heart keeps him from playing his beloved baseball, Jeremiah appoints himself the team coach. When Walt has to move for another new assignment, Jeremiah sees it as a great chance to explore a new town. But no sooner do they arrive than a doping scandel is revealed and the town feels betrayed and disgraced. Jeremiah takes it as his personal mission to restore the town's morale and help the teams bounce back and remember how to soar. Full of humor, heart, and baseball lore, Soar is Joan Bauer at her best.

S. O. S.

by

ISBN: 9781512427707

Publication Date: 2017-01-01

After a kayaking accident nearly kills Tyrell, he is glad to be home and recovering. However, one night at midnight, he sees a strange light flashing in the window of the abandoned factory down the road. The light is there again the next night, and it's signaling S.O.S. Tyrell tries to help the mysterious signaler, but when a scissors-wielding ghost girl appears, things start to get really creepy. What does the ghost want, and can Tyrell satisfy it without risking death?

This Impossible Light

by

ISBN: 9780399173721

Publication Date: 2017-06-06

Fifteen-year-old Ivy's world is in flux. Her dad has moved out, her mother is withdrawn, her brother is off at college, and her best friend, Anna, has grown distant. Worst of all, Ivy's body won't stop expanding. She's getting taller and curvier, with no end in sight. Even her beloved math class offers no clear solution to the imbalanced equation that has become Ivy's life. Everything feels off-kilter until a skipped meal leads to a boost in confidence and reminds Ivy that her life is her own. If Ivy can just limit what she eats-the way her mother seems to-she can stop herself from growing, focus on the upcoming math competition, and reclaim control of her life. But when her disordered eating leads to missed opportunities and a devastating health scare, Ivy realizes that she must weigh her mother's issues against her own, and discover what it means to be a part of-and apart from-her family. This Impossible Lightexplores the powerful reality that identity and self-worth must be taught before they are learned. Perfect for fans of Laurie Halse Anderson and Ellen Hopkins.

Under Locker and Key

by

ISBN: 9781481463430

Publication Date: 2017-04-18

Eleven-year-old Jeremy Wilderson teams up with his rival crime fighter to stop the stealing spree that's wreaking havoc on Scottsville Middle School in this action-packed MAX novel. Jeremy Wilderson is not a thief. In fact, he is his middle school's one and only retrieval specialist. Confiscated cell phones, stolen lunch money--he'll discretely retrieve it before the last bell rings. Business is good, and if it weren't for the meddling of preteen private investigator Becca Mills, he'd be happier than a gym teacher on dodgeball day. But a new job shatters his comfortable lifestyle. Now, thanks to Jeremy, the master key to the schools' lockers is in the hands of an aspiring crime kingpin who doesn't exactly have Jeremy's strong moral character. Soon not even combination locks can protect the students' textbooks and jackets. Retrieving the key is too big a job for one crime fighter, and only one person wants the key returned as much as Jeremy does: Becca Mills. Lockers are being robbed, the teachers are looking for the culprit, and the only person Jeremy can turn to is the girl who most wants to see him in the principal's office. Will Jeremy be able to trust Becca enough to get the key back in the right hands? Or could he end up in detention until the end of high school instead?