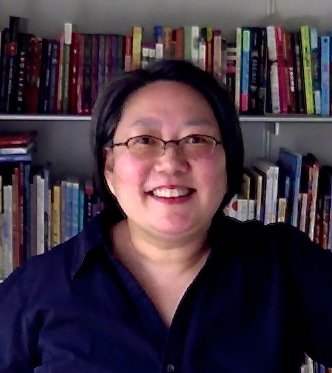 MEET JANET S. WONG

Poet Janet Wong is the author of more than two dozen books for children and teens. She has presented at the White House and been featured on the Oprah Winfrey show. She wasn't always a children's author though, she started out as a lawyer! She made a dramatic career change for sure!
Janet says, "Hey, Kids! If you want to be a star basketball player, you know you need to dribble the ball constantly, shooting hoops in the driveway and playing games as often as you can. Writing is the same way. If you want to become a star writer, you need to put some time in—EVERY single day."
Press on the Photo to See and Listen to Janet
Janet Wong's career switch was so dramatic that she was featured on a segment of The Oprah Winfrey Show. When Wong left her job as Director of Labor Relations at Universal Studios in Hollywood, she dreamed of becoming a children's book author.
An interview with children's book author and poet Janet Wong
For more interviews and inspiration, please go to: http://www.authormagazine.org/
Twist
ISBN: 9780689873942
Come explore yoga in a new way with TWIST, a collection of sixteen original poems sure to inspire even the youngest yogi! Feel the damp soil beneath you as Cobra, and grab hold of a star as Half-Moon.
You Have to Write
ISBN: 9780689834097
You have to write! It's a class assignment. But you have nothing to write about. All the other kids seem to have something to tell because they start in right away. What can you do? Stop and think. No one else can tell your stories -- about your family, your dog or cat. No one else can tell how it was when your library book got soaked in the rain. But what if you don't like what you write? There are all sorts of ways to change it, to make it better. Keep on playing with your words, putting them together in different ways. You want whatever you write to be good. It will get better and better as you work on it.
Apple Pie Fourth of July
ISBN: 9780152057084
Shocked that her parents are cooking Chinese food to sell in the family store on an all-American holiday, a feisty Chinese American girl tries to tell her mother and father how thingsreally are. But as the parade passes by and fireworks light the sky,she learns a surprising lesson.
The Dumpster Diver
ISBN: 9780763623807
One person's trash is another persons's treasure in this vivid picture-book ode to creative recycling — and to loyal friends. Anyone can dive for treasure in the ocean, but Steve dives for it in his neighborhood dumpster! As he delves into the trash each weekend, Steve encourages his young neighbors (aka the Diving Team) to see the potential in what other people throw away. With a little bit of imagination, trash can be transformed into treasure — and as the Diving Team soon discovers, it might even help a friend in need.
Homegrown House
ISBN: 9780689847189
It takes time to settle into a house, to learn to love it right, to make it feel homegrown. After the boxes are unpacked and the books are shelved (alphabetically), all a young girl wants to do is settle into her house. Grandmom says that it takes time to learn to love a house right, and this young girl is determined for hers to become homegrown.
Me and Rolly Maloo
ISBN: 9781580891592
Rolly Maloo is the most popular girl in school. Jenna would love to be her friend. So when Rolly asks Jenna to help cheat on a test, Jenna agrees—and gets caught. Should she tell on Rolly Maloo?
Minn and Jake
ISBN: 9780374400217
A surprising friendship Do you ever feel like you've somehow lost your true best friend? Minn feels this way. So does Jake. But Minn and Jake have no intention of being friends. Minn's a string bean. Jake's a shrimp. Minn's a girl. Jake's a boy. And in fifth grade, who wants a best friend of the opposite sex? But Minn and Jake are forced together by circumstances, which only strengthen their resistance . . . until Minn takes Jake lizard hunting. There are lots of good ways to choose a friend. This enchanting free-verse novel, accompanied by expressive, humorous black-and-white drawings, proves that sometimes friendship just happens.
Minn and Jake's Almost Terrible Summer
ISBN: 9780374349776
There are a few things / about your best friend that you can only learn / when you see where he's from. Minn knew / that Jake was from the city. But she didn't know / that his grandmother was Korean. That he liked taking bubble baths. / That his brother, Soup, might be an eating champion. / That Jake was a cheater, and that he had a . . . / girlfriend?! There are some things / about your best friend that it's better not/ to know.
Knock on Wood
ISBN: 9780689855122
Publication Date: 2003-09-01
What superstitions do you follow? In this collection of original poems, accomplished poet Janet S. Wong explores seventeen superstitions, some common, others that are less known, and delves into their origins as well as their lore.
Alex and the Wednesday Chess Club
ISBN: 9780689858901
Alex first learned to play chess when he was four years old. He loved it. He loved the pieces, the challenge, and the sweet taste that winning left in his mouth. He loved it until he played a chess game with moldy old Uncle Hooya...and lost. Then Alex decided to give up chess for good. Now in third grade Alex wants to give chess another try. He joins the chess club and discovers that chess is fun again. He plays his friends, he listens to the coach, and he practices at school, at home, and on the computer. Alex is a chess maniac! All of this practice is leading up to the big tournament, where Alex finds himself face-to-face with Little Cousin Hooya. Memories of his earlier defeat return, but now is his chance to finally beat a Hooya. Is Alex up to the challenge?